Category Archives:
Uncategorized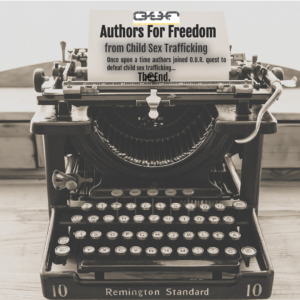 I'm honored to support a great organization working to rescue children from sex trafficking worldwide. All proceeds from our book "Sunday Lessons and Activities for Kids" on July 31, 2020 go to Operation Underground Railroad.
Author Marsha Lavin is also participating in this "Authors for Freedom" event with her book that I had the honor of editing, "Fifty-Five Days of Faith: The Remarkable Life of Dick and Marsha Lavin."
Co-editor Julia B. Blake is participating as well, with our book "Girls' Camp: Ideas for Today's Leaders."
Pick them up on Amazon! Or contact me directly for autographed copies (see contact button above).
Read more about the campaign at Authors for Freedom – Operation Underground Railroad. Join the fight by reading an Author's For Freedom book and learn more at www.ourrescue.org.
"To the children who we pray for daily, we say: Your long night is coming to an end. Hold on. We are on our way."
With gratitude to Sunday Lessons contributing authors Julia B. Blake, Jon and Lori Forsyth, the late Char Lyn Grujoski, Kristine Haglund, Danielle Harrell, Roz Soulam Hawk, Michelle Whalen Henderson, Jackie Escobar Herrera, Tina Huntsman, Jenn Iverson, Whitney Johnson, Caroline Jones, Linda Hoffman Kimball, Rebecca Lewis, Brigitte Madrian, David Madrian, Emily Mangum, James McQuivey, Megan Kelly McQuivey, Michelle Marple Purrington, HelenClaire Sievers, Laura Stowell, and Martha Larsen Wingate, with endorsements by Lori Henderson, co-creator of MormonMediaNetwork.com, Marc Buchanan, father and Primary worker, the late Ron Scott, author of Mitt Romney: An Inside Look at the Man and His Politics.
With gratitude to Girls' Camp contributing authors Stacy Appleby, Cynthia L. Austin, Kelly Austin, Amanda Barry, Taylor Bringhurst (Niebergall), Pat Buchman,  Jonyce Johnson Bullock, Amy Douglass, Emma Lu Draper (with June Sivers), Heidi Ferrin, Gladys Clark Farmer Fetzer, Jon Forsyth, Lori Forsyth, Mark Gregory (with Julianne Hansen and Carol Gregory), Michelle Whalen Henderson, Staci Hopkin, Tina Huntsman, Tina Fletcher John, Greg Lenz, Sara MacLean, Mary Ellen Moulton, Anna Parker, Deb Ramsay, Amy Rogers-Douglass, Marla Staffanson, Heather Sundahl, Anne Tardiff, Diana Pfaehler Umina, and Abbey Whitcomb, with endorsements by Julie Berry, award-winning author, Clark Woolstenhulme, multi-year girls' camp visitor and father (husband of Guinevere Woolstenhulme, and Hailey Smith, co-writer, co-producer and actress in Once I Was a Beehive.
With gratitude for Fifty-Five Days of Faith endorsers Cathy Stokes, nurse and retired public-health administrator; Margaret Blair Young, filmmaker and co-author (with Darius Gray) of Standing on the Promises; Romane Armand, poet and author of Book of Rhymes: A Laxative for Creative Constipation; Paul Furse, author, founder of Mind Management Systems and Head Coach of Ascend Marketing; Jacqueline Nagy, avid reader, writer, passionate world traveler, dedicated mom and wife; and Marilyn Nelson, adoptive mother, English teacher, avid reader, and Sunset Beach Turtle Patrol volunteer
#our #endhumantrafficking #operationundergroundrailroad #OURAuthorsForFreedom