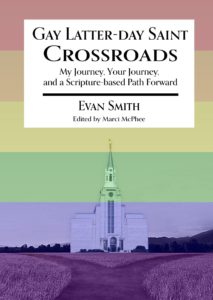 My next book is OUT! (a little gay humor there) I had the honor of editing Evan and Cheryl Smith's book Gay Latter-day Saint Crossroads: My Journey, Your Journey, and a Scripture-based Path Forward. It's a free PDF download and navigable e-book online at gayldscrossroads.org.  Evan is a former stake presidency counselor whose son is gay. With the mind of a lawyer, he examines scriptures and church teachings to look for a more hopeful doctrine. 
For those who prefer to listen, here's an interview with the author Evan Smith and his wife Cheryl on Richard Ostler's "Listen, Learn and Love" podcast series (Evan gives me a nice shout out as a "great writer" (blush).
My short editor's foreword is here. Want to start with the distilled version of the book? Here's a 10-page overview and a 1-page chart. Or you can check out the table of contents and explore questions of interest to you.
To see what people have said about the Crossroads book, including Latter-day Saint authors Carol Lynn Pearson, Judy Dushku, Richard Ostler, Bryce Cook, David Ostler, and Clair Barrus, click here.
Check it OUT! (tee hee)